Common Injuries After an Auto Accident
Sept. 22, 2022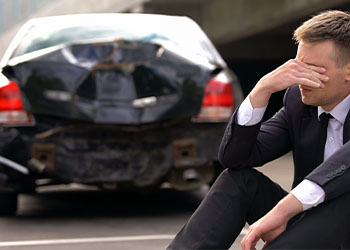 Car accidents cause many problems for the folks who suffer through them, problems such as aches and pains that they didn't have before. These new symptoms could be indicative of another injury, and it's important to seek medical attention as soon as possible. While it may just be an ache or pain now, an injury could escalate into a more serious medical problem without proper treatment.
Even if you believe it's only a minor issue, you should speak with a qualified health care provider after a car accident. The expense of an appointment now could save you much more down the line, and your healthcare costs could possibly even be covered if you choose to file a personal injury claim.
With over three decades of experience, Mr. Nichols can help you pursue the best possible outcome after an auto accident. His dedication to his community extends to each and every one of his clients, and he prides himself on his client service. Mr. Nichols will give your case the personal attention it deserves. Nichols Law Offices, PLLC proudly represents clients in Syracuse, New York, as well as Rome, Utica, Fort Drum, Watertown, and throughout Jefferson County.
Factors That Cause Injuries
A car accident can happen in an instant, but there are many factors at play during that instant that may cause injuries. The most common causes of car accident injuries include:
The impact of the accident itself can cause injuries such as whiplash and other soft tissue injuries. Impact injuries also include mid-back and lower-back sprains and other more serious back injuries.

Seat belts are designed to protect, so when a seat belt fails, the resulting injuries can be serious. More impact injuries can occur after a seat belt failure.

Broken glass can cause injuries in any situation, but in a car accident, shards of glass can cause severe scrapes and cuts.

In some crash conditions, airbags will fail to deploy. Like seat belts, when airbags fail, the resulting injuries can be serious.
Common Injuries
The impact itself, broken glass, and seat belt or airbag malfunctions lead to injuries. Some of the most common car accident injuries include:
Whiplash

Scrapes

Cuts

Bruises

Broken ribs

Head injuries

Mid-back sprains

Lower-back sprains

Broken legs and arms
These are some but not all of the injuries that can occur after a car accident. Speak with an experienced car accident attorney to learn more about your legal options if you have any of these injuries.
Should I Be Seen By a Doctor?
If you have a minor cut or bruise, you may be asking yourself, "Should I seek medical attention after an accident?" In almost all cases, the answer is "yes" for these two reasons:
First, some injuries take time before symptoms show. A qualified healthcare professional should be able to identify and diagnose injuries that you can't see yourself. If you seek medical attention quickly, you'll have a better chance of treating and healing those injuries – whether or not you yourself see them right away.

It's also important to be assessed by a healthcare provider for insurance purposes. When you were in a car accident that you didn't cause, you shouldn't be responsible for the expenses created by that accident.
Your medical bills should be covered by insurance, but insurance companies may refuse to pay if you do not immediately seek medical assistance. The insurance company will likely argue that because you waited to seek medical attention, your injuries weren't actually that serious. Make sure you keep copies of all of your bills and medical records in case you need to provide them.
Compassionate Legal Guidance
You don't have to navigate the difficult path forward after a car accident alone. With an experienced personal injury attorney at your side, you can be confident that you're doing everything you can to protect your case. Mr. Nichols at Nichols Law Offices, PLLC has three decades of experience representing folks who were injured in car accidents. He will give your case the personal attention it deserves and guide you through each step of the legal process.
Nichols Law Offices, PLLC proudly represents clients in Syracuse, New York, as well as Rome, Utica, Fort Drum, Watertown, and throughout Jefferson County. Contact the firm today to schedule a free consultation.