Common Misconceptions About Car Accident Claims in New York
Sept. 17, 2021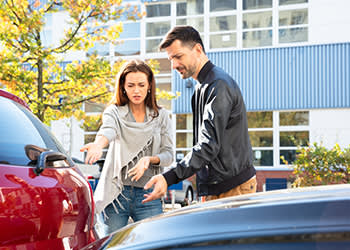 In 2019, the latest year for available statistics, there were 447,021 traffic crashes in New York State. As a result, 121,068 persons suffered injuries and 881 died, according to the Institute for Traffic Safety Management & Research (ITSMR). Some 325,072 of the crashes resulted in property damage of some sort, usually between vehicles.
New York is a no-fault auto insurance state, but that doesn't necessarily mean your only avenue of recovery for injuries and property damage is your own insurance provider. Depending on the circumstances, other avenues may be available.
If you've been injured or involved in an accident in or around Syracuse, New York, or nearby in Rome, Utica, Fort Drum, or Watertown, or throughout Jefferson County, contact Nichols Law Offices, PLLC. We will listen to your story, weigh your options, and advise you on how best to proceed to recover for damages and injuries. We will then aggressively represent you in any claim negotiations or lawsuits.
Common Misconceptions About New York's No-Fault Law
Many drivers assume that since New York adheres to a no-fault insurance standard that the only place to turn when an accident occurs is to their own insurance company. While it is true that this is the necessary starting point, some situations call for expanded options. Let's go through some popular misconceptions.
It's always the at-fault driver's insurance that pays for injuries and damages: This is not true in many cases, as you must first turn to your own insurance coverage under New York's no-fault system. The next section covers instances when you can claim compensation from the at-fault driver.
Since New York is a no-fault state, I can't seek compensation from the at-fault driver: This depends. If your injuries are minor, you will be covered by the Personal Injury Protection (PIP) portion of your auto insurance. If your injuries are serious, then you can seek compensation from the other driver's insurance or through a personal injury lawsuit.
If the accident is minor, it's not necessary to file a police report: True enough if there are no injuries or damages, or extremely minor ones, resulting from the accident; but by law, if damages and/or injuries come to $1,000 or more, a report must be filed. The report must be submitted within 10 days after the accident.
I was partially at fault for the accident, so I can't file a personal injury claim: Under the legal standard employed in New York called "pure comparative negligence," you can actually recover damages even if you're 99 percent at fault. Under pure comparative negligence, if a personal injury claim is filed, insurance adjusters and juries will assign a portion of fault – or negligence – to each driver involved in the accident.
Say you're rear-ended, but your brake lights didn't function. You might be assigned 30 percent (or more or less) of the fault, or negligence. You could still receive 70 percent of any settlement or jury award you receive.
I don't need to hire an attorney to file a personal injury claim: Ever dealt with insurance claims adjusters? If so, you know that they're, in popular parlance, "out to get you," even if you're not at fault. If they can get you to slip up and say something they can use to lowball or deny your claim, they will.
Unless your claim is so minor – a paint scratch and no injuries, for example – it's best to let an experienced attorney handle the adjusters. Attorneys know how to deal with the big insurance companies and their adjusters and can negotiate for a better settlement than the low-figure offer you'll receive dealing with them on your own.
There's also the potential for a personal injury lawsuit, for which you will definitely need the counsel of an attorney. Remember, an insurance company will pay only for outright expenses and losses, like medical bills and wages lost to time off from work to recover. Even then, insurance companies have both hard caps – the limits of coverage purchased – and percentage caps. They generally pay only 80 percent of lost wages, for instance.
With a personal injury lawsuit, you can obtain both economic damages (with no caps) and noneconomic damages for pain and suffering and loss of consortium.
You'll definitely need to consult with an attorney before embarking on a personal injury lawsuit. It's not something you can realistically do yourself. Plus, if the at-fault driver has little or no assets beyond their insurance coverage, you may win "big," but be unable to recover beyond what the insurers will pay.
Under New York law, you have three years from the date of your injury to file a lawsuit.
Getting the Experienced Legal Help You Need
If you or a loved one has been injured in an accident, you may have more options in addition to your no-fault PIP coverage. And even if you're just seeking a claim through your own insurance carrier, you many times will be better off leaving an experienced professional to deal with the claims adjusters. An attorney can negotiate from a position of strength to obtain the best possible settlement.
The Nichols Law Offices, PLLC, will consult with you, investigate the accident to assess liability, advise you of your options, and then pursue your compensation vigorously, either through the insurers or through a personal injury lawsuit.
We proudly serve clients across Syracuse, Rome, Watertown, Fort Drum, Utica, and throughout Jefferson County, New York.