I Was Involved in a Hit & Run. Do I Still Have a Case?
Jan. 12, 2022
Under New York law, all drivers involved in automobile accidents resulting in deaths, injuries, or property damage must stop their vehicle, exchange information at the scene, and report the accident. Unfortunately, many people disregard the law and flee the scene of the crash without stopping in an attempt to avoid liability.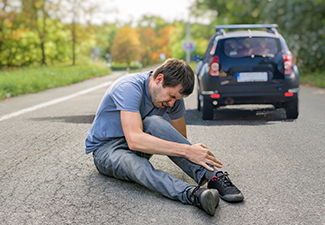 If you were involved in a hit and run in New York, you might wonder whether you can still seek compensation for your injuries and damages. The knowledgeable car accident attorney at Nichols Law Offices, PLLC, has represented countless hit and run victims in Syracuse, New York, and neighboring areas. Mr. Nichols and his team are dedicated to using every resource at their disposal to protect the rights of car accident victims. You must contact the Nichols Law Offices, PLLC, to discuss your unique situation and options to recover compensation. Mr. Nichols serves clients also in Rome, Utica, Fort Drum, Watertown, and Jefferson County, New York.
New York Is a No-Fault Insurance State
New York is one of the states with no-fault insurance laws. Under New York law, all motorists must purchase and carry personal injury protection (PIP) coverage. The PIP coverage is part of a driver's car insurance policy that covers reasonable medical expenses incurred by the policyholder and their passengers, lost wages, and out-of-pocket expenses regardless of fault.
Thus, instead of filing a claim against the at-fault driver, those who sustain injuries in car accidents in New York must bring a claim with their own insurance company. However, filing a claim against the at-fault driver's insurance is possible under certain circumstances.
Uninsured or Underinsured Motorist Provision
In New York, there are several types of auto insurance coverage options that pay for the losses and expenses incurred by the victim of a hit and run:
Collision coverage pays for the reasonable cost of repairs necessary to restore the automobile to the pre-accident condition. If the vehicle was destroyed in the hit and run crash, collision coverage would pay for the replacement of the vehicle.

Uninsured and underinsured motorist coverage pays for injuries and damages caused by someone else when the driver cannot be identified and located. Thus, if you were injured in a hit and run, you can use the uninsured motorist coverage to pay for your medical bills and other losses as long as you have the coverage as part of your auto insurance policy.
Steps to Take if You Were in a Hit and Run
Being involved in a hit and run can be both frustrating and overwhelming. Many people do not understand what steps to take when their vehicle is hit and the other driver flees the scene of the accident.
Turn on your hazard lights and get to safety. If the driver who hit you fled the scene of the vehicle, it might not be apparent to other drivers that an accident occurred. For this reason, you need to turn on your hazard lights to alert other drivers that something is wrong and get to safety.

Do not pursue the driver fleeing the scene. Understandably, many drivers have the urge to chase after the motorist who hit them to get justice. However, attempting to pursue the driver could make the situation worse and increase the risk of new crashes involving other vehicles.

Take note of all the details you can remember. In the moments following the hit and run accident, you should write down as many details about the fleeing vehicle as possible. Information could include the car model, make, color, and identifying features like bumper stickers.

Notify the authorities. Call the police and report the hit and run accident. Having a police report indicating that you were involved in an accident caused by a driver who fled the scene is crucial for your case.

Talk to witnesses. It can be difficult to prove that you were in a hit and run caused by someone else when you do not have witnesses to attest to that fact. When talking to witnesses, write down their names and contact information.

Contact your insurance company. The next step is to report the accident to your insurance provider and start the claims process.

Hire an experienced personal injury attorney. Finally, you want to talk to a skilled attorney to get experienced legal support for your hit and run case.
Getting the Experienced Legal Support You Need
You must speak with a car accident attorney if you were involved in a hit and run in Syracuse, New York, to review the circumstances of your accident and figure out what compensation options you may have. The personal injury attorney at Nichols Law Offices, PLLC, can help work tirelessly on your hit and run case to secure compensation for all your losses and damages. Mr. Nichols and his team also represent people in personal injury cases in Utica, Watertown, Rome, Fort Drum, and throughout Jefferson County.