Parking Lot Accidents: Who's At Fault?
July 20, 2021
Parking lots and garages are dangerous places. Tens of thousands of accidents occur every year, with countless others going unreported.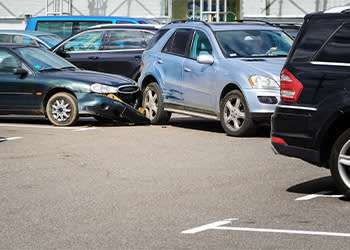 Many drivers think parking lots are safer than the road and do things while operating a vehicle in them that they would not normally do on the road. In fact, anywhere from 50%-66% of drivers will email, use social media, text, program their GPS, or talk on the phone while driving in a parking lot.
If you have been injured by a driver in a parking lot or garage who was distracted, not paying attention, drove too fast, or failed to yield the right-of-way, you have the right to pursue compensation for your injuries and damages. It isn't always easy to prove negligence after a parking lot accident, but it is possible with the help of a skilled attorney.
For more than 25 years, Nichols Law Offices, PLLC, has helped clients in Syracuse, New York, and the surrounding areas of Rome, Utica, Fort Drum, and Watertown recover compensation for negligence — even in parking lots and garages. Mr. Nichols will never shy away from the challenge of proving who was at fault in parking lot accidents, and he won't back down when advocating for your needs inside and outside of the courtroom.
Who Has the Right-of-Way in Parking Lots?
Parking lots are busy places. Vehicles are constantly entering and exiting the lot, pedestrians are crossing, and cars are pulling into and backing out of parking spaces. Although there may be a few signs posted at crosswalks, major intersections, and at entrances and exits, safety largely relies on speed, attention, and yielding the right-of-way.
In general, vehicles in the through lanes, those major lanes surrounding the perimeter of the lot, have the right-of-way. Vehicles wanting to access the through lane from one of the lanes lined with parking spaces, must yield the right-of-way, and only pull into the through lane when traffic is clear.
It is true that pedestrians on roadways do not always have the right-of-way. However, because crosswalks are limited in parking lots, and people must walk to and from their parked vehicles, pedestrians typically have the right-of-way. That said, they should be observant and pay attention to cars pulling in and out of parking spaces and when crossing through lanes.
What Are the Rules When Backing Out of a
Parking Spot or Fighting for the Same Spot?
Every vehicle operator is required to check around their vehicle to make sure it is safe to back out of a parking spot. They need to look for pedestrians, runaway shopping carts, open vehicle doors, and other vehicles in the lane or backing out of other spots. Generally, if another driver is already backing out of a parking spot, other drivers should wait. There are situations in which two drivers begin to back out at the same time. If that happens, one car should yield to the other out of courtesy and safety.
Fighting for the same parking spot is like a game of vehicular chicken. The scarcer the number of available spots, the more heated the competition can be — and the less likely one driver will graciously allow the other to pull in. If neither gives in, a collision can occur.
Even if you reach the spot first and stop, putting on your blinker while waiting for the parked car to back out, another vehicle arriving subsequently may not allow you to park. If a collision does occur, you will need the help of a skilled attorney to help establish fault and prove liability.
Who Is at Fault in Parking Lot Accidents?
Fault is not always evident in parking lot accidents and can be extremely difficult to prove. Much of parking lot safety depends on attentiveness and sheer common courtesy. Unfortunately, there is oftentimes a lack of both in busy lots. There are three potential categories of persons or entities that can be held responsible for damages, should you be involved in an accident. Those parties include:
The Other Driver - If you are in the process of backing out of a parking spot and another driver backs out and hits you, they are at fault. Likewise, if you are driving in a through lane and someone else pulls out from a side lane and hits your vehicle, they are at fault. Witness testimony and security camera footage are often necessary to prove fault.

A Pedestrian - Although pedestrians largely enjoy the right-of-way in parking lots, they still have a duty of care to vehicle operators. If they fail to watch for vehicles and you back into them, they can bear significant fault for causing the accident. However, vehicle drivers are required to use their eyes, mirrors, backup cameras, and alarms before backing out. Once they do begin to back out, it's important to proceed very slowly to ensure the safety of pedestrians and other drivers.

The Parking Lot Owner - Parking lot owners have a duty to provide safe premises to individuals who use the lot. Hazards must be clearly marked and other dangers, such as potholes, must be identified and repaired in a timely fashion. Signage, lane indicators, and crosswalks should be clearly marked and made clearly visible to drivers and pedestrians. If parking lot owners fail to comply with any of these standards, they can be held liable for accident damages should their failure to provide safe premises lead to an accident that results in injury.
Allow Nichols Law Offices, PLLC to Help
The lack of clear rules of the road in parking lots is often what makes them so dangerous. Some accidents may be the result of both drivers not following the rules of the road. In many others, only one party is responsible for causing an accident — although proving it will be the challenge.
If you have been injured in a parking lot accident, the first step you should take is to consult with an experienced New York personal injury attorney. Your attorney will know how to interview witnesses, gather video and other evidence, quantify your damages, and substantiate an injury claim. Insurance company attorneys for the person who caused the accident will work diligently to deny your claim altogether, so it's important you have someone you can trust on your side.
At Nichols Law Offices, PLLC, Mr. Nichols has been successfully representing clients who have been injured in parking lot accidents for more than 25 years. He won't back down from insurance companies or their attorneys and will do everything he can to fight for the compensation you need and deserve.
If you have been injured in Syracuse, New York, or the surrounding areas of Rome, Utica, Fort Drum, Watertown, or anywhere else in Jefferson County, schedule a free case evaluation today!