Should I Speak to an Insurance Adjuster After a Wreck?
Aug. 25, 2022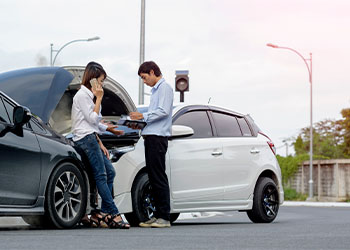 Within a few hours or days after a car crash, a claims adjuster from an insurance company will likely call you to talk about the accident. Speaking with an insurance adjuster may not seem like a big deal, which is why you may not hesitate too much when you receive a call from the adjuster.
However, it is in your best interests to exercise extreme caution when speaking to an insurance adjuster. Your conversation with the adjuster could have a tremendous impact on the outcome of your personal injury claim.
The car accident attorney at Nichols Law Offices, PLLC is fully aware of the risks an accident victim may be exposed to when dealing with insurance companies. Mr. Nichols, the founding attorney, assists clients through the communication process following an accident and protects their legal rights. Nichols Law Offices, PLLC serves clients in Syracuse, New York, and other parts of the state, including Fort Drum, Rome, Watertown, Utica, and throughout Jefferson County.
What Is the Insurance Adjuster's Role?
Insurance claims adjusters are professionals hired by an insurance company to perform specific duties. Insurance adjusters play a key role in the claims process. An insurance adjuster's job includes:
Reviewing accident claims

Determining liability

Calculating damages

Taking a recorded statement

Communicating with the claimant

Negotiating a settlement
It may seem as if an insurance adjuster is on your side. Many people believe that insurance adjusters look out for their best interests. In reality, it is the exact opposite. Insurance adjusters are trained to protect their employer's best interests and save the company money by denying claims or settling claims for as little as possible.
Should I Accept or Refuse a Request for Statement?
When you get a call from an insurance adjuster after a wreck, they may ask you to provide a recorded statement. Requesting a recorded statement is a standard tactic insurance adjusters use to deny or devalue claims.
You have no obligation to provide a recorded statement no matter how hard the adjuster is trying to convince you otherwise. Insurance adjusters are trained to elicit statements that would be used against the claimant later in the claims process. The adjuster is looking for inconsistencies in your statements and wants you to say things that will give them an excuse to deny your claim or pay you less than you deserve.
If an insurance adjuster makes a request for a statement, politely decline and say that you would like to speak with your lawyer first.
Tips for Speaking to an Insurance Adjuster
If you were involved in a car wreck, it is only a matter of time before you get a call from an insurance adjuster. If you do decide to speak with them yourself rather than through an attorney, you should be prepared and know what to do:
Get the adjuster's name. Before you begin to talk about the accident, the first thing you should do is get the adjuster's name and contact information. Ask them what insurance company they represent.

Be polite. While speaking to an insurance adjuster may not be the most pleasant thing you can think of when recovering from your injuries, it is vital to be polite when you talk to the adjuster.

Give limited information. When answering the adjuster's questions, avoid speculating or volunteering unsolicited information. Stick to the facts.

Do not go into details. When discussing your accident or injuries, avoid giving details. As a rule of thumb, the less you say, the better.

Do not let the adjuster record you. Keep in mind that providing a recorded statement could be detrimental to your claim. That is why you should tell the adjuster that you do not consent to being recorded.
Consider contacting an attorney who will communicate with the insurance adjuster on your behalf. Your attorney will advocate for your rights and ensure that you are treated fairly throughout the claims process.
Work With an Experienced Attorney
If you were injured in a car accident in Syracuse, New York, or the surrounding areas, you do not have to go through the claims process alone. You can work with a skilled attorney at Nichols Law Offices, PLLC who will handle all communications with the insurance adjuster while you focus on your medical treatment. Reach out today to schedule a free consultation with Mr. Nichols.