Understanding Distracted Driving Laws in New York
May 12, 2021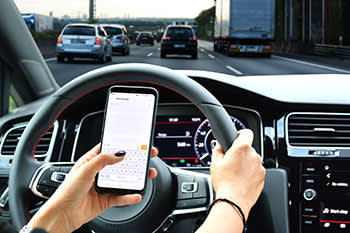 A recent report released by the National Highway Traffic Safety Administration revealed that in 2019, more than 3,100 people were killed, and more than 424,000 people injured in motor vehicle accidents involving distracted drivers. To put it simply, someone chose to stop paying attention to the road and an innocent victim ended up paying the price.
If you or someone you know has been injured in an auto crash and you believe or suspect that the other driver was texting and driving or otherwise driving while distracted, their negligence may pave the way for you to pursue compensation. Vehicle operators always owe others on the road a duty of care when driving. If they fail their duty of care while breaking the law, that failure elevates their negligence.
At Nichols Law Offices, PLLC, we have been helping clients in Syracuse, Rome, Utica, Fort Drum, and Watertown, New York recover damages for injuries sustained when another driver was distracted. Attorney Craig K. Nichols has been representing personal injury clients for more than 25 years — and he would be proud to represent you in your injury case.
What Constitutes Distracted Driving?
Distracted driving can be defined as anything that takes your eyes off the road, your hands off the steering wheel, or your focus off of the road while driving. In fact, cognitive distractions, like having a conversation with a passenger or talking on a hands-free phone can be just as dangerous as texting or checking a social media feed while driving. When you are engaged in conversation with someone, you cannot be fully engaged and focused on driving.
A driver could be distracted by doing any of the following:
Eating or drinking

Looking at a passenger in the vehicle

Adjusting the radio or temperature settings

Shaving or applying makeup

Reaching to pick up something from the passenger seat or back seat of the vehicle

Reading a map or navigational device

Using your cell phone

Falling asleep at the wheel
New York Laws About Distracted Driving
New York law prohibits drivers from using any type of handheld phone while driving. This includes any of the following:
Talk on a handheld phone

Compose, read, send, access, browse, transmit, save, or retrieve electronic data such as an email, text message, or access the internet

Take, view, or transmit photos or video

Play games
Drivers are allowed to use their handheld phones to call 911 in an emergency, use electronic devices built into the vehicle's dashboard, and use phones, GPS, or other devices in hands-free mode while driving. Also, drivers operating authorized emergency vehicles are permitted to use handheld phones in any fashion while performing official duties.
What To Do If You are Injured
by a Distracted Driver
Proving that the other driver was distracted while driving is not always an easy feat. Because using a handheld phone while driving is against the law, few drivers will admit to doing so when law enforcement arrives on the scene. It will be up to you to prove that they were.
An experienced and knowledgeable personal injury attorney like Mr. Nichols can help. He will investigate the circumstances of the crash, interview witnesses, and locate traffic and other security cameras in an effort to obtain footage that can help you prove your case. If necessary, he can also work to obtain the driver's mobile phone records via a subpoena to provide the evidence necessary to document your claim. Attorneys for the negligent driver's insurance company will work hard to discount any evidence that you present. You will need an experienced personal injury attorney working diligently to prove otherwise.
Establishing that the other driver was negligent and therefore responsible for your economic and non-economic damages will be the first step of your claim. Offering evidence to support that claim will only strengthen your case.
While this all may sound overwhelming to you, Mr. Nichols has been handling personal injury claims like this for more than 25 years. He provides the experienced and aggressive legal representation that you need and can guide you through the personal injury process from filing a claim, to investigating the event, to fighting to obtain a settlement or judgment against the driver who caused your injuries.
At Nichols Law Offices, PLLC, you'll have the opportunity to work with an attorney who represents clients in Syracuse, Rome, Utica, Fort Drum, and Watertown, New York, as well as throughout Jefferson County. You deserve to have an attorney on your side who will do everything they can to get you the compensation you deserve. You can find that level of dedicated service at Nichols Law Offices, PLLC.
So if you or someone you know has been injured by a distracted or otherwise negligent driver, don't face this challenge on your own. Call Nichols Law Offices, PLLC today to schedule a free case consultation.