What to Do If You've Been in a Car Accident
Oct. 5, 2021
Being involved in a car accident can be traumatizing, scary, and confusing. A victim of a car wreck may experience a rollercoaster of emotions. Car accidents are not an uncommon occurrence in Syracuse and elsewhere in Onondaga County, New York.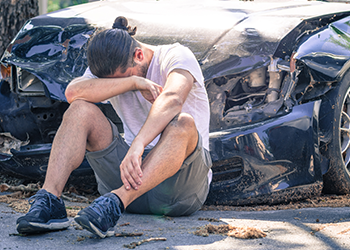 According to the New York State Department of Health, an average of five residents of Onondaga County died in motor vehicle accidents every two months, while 375 residents were treated in emergency rooms.
Even though car accidents happen frequently in Syracuse and other parts of Onondaga County, many people do not know what to do following a wreck. Mr. Nichols of Nichols Law Offices, PLLC understands what you are going through. He is prepared to guide you through each step of the process to make this difficult time easier for you.
Steps to Take After an Accident
If you have been in an accident, the very first thing you should do is take a deep breath and calm down. Complete the following steps in the aftermath of a car wreck because the things you do in the minutes and hours after your crash will have a tremendous impact on your health and personal injury claim.
1. Get to safety. If no one was injured and the crash was minor, you might want to consider moving your vehicle to a safe spot. Turn on your hazard lights and move your car off the roadway or to another safe location. Leaving your vehicle on the road can put you and other people at risk of another wreck.
2. Seek medical attention. Many accident victims underestimate the importance of seeking medical attention following a car crash. However, it is in your best interests to go to an emergency room or hospital to get a check-up, even if you think you were not injured or your injuries are minor. Receiving medical attention immediately after the collision is critical for three reasons: (1) for your own sake, (2) to document your injuries, (3) to strengthen your future personal injury claim.
3. Call the police. Under New York State Vehicle and Traffic Law § 605, motorists must report car crashes involving injuries, fatalities, or property damage exceeding $1,000. Once the police arrive at the scene of your collision, they will investigate the scene, talk to the parties involved, and prepare a police report.
4. Document the scene. It is critical that you gather evidence and document the scene while waiting for the arrival of the police. Note the contact and insurance information of all parties involved in the accident and the contact information of any witnesses. It is also advisable to write down your own account of what happened to make sure that you remember all the details. In addition, you should take photos of the vehicle damage, your injuries, and other details that might be relevant to prove the other party's fault.
5. Notify your insurance company. The next step to take after the car wreck is to report your accident to your car insurance company. Some insurance companies require policyholders to notify them of accidents within 48 hours. Failure to notify the insurer within the appropriate time window could result in the loss of your right to compensation.
6. Hire a car accident attorney. Consider contacting a skilled car accident attorney near you to help you determine your options for compensation, gather evidence, negotiate with insurance companies, and protect your rights throughout the claims process. If necessary, your attorney could take your case to court to maximize the settlement amount.
Potential Pitfalls After a Car Accident
Seeking compensation after a car accident can be a complicated and confusing process. Victims of car crashes may encounter the following pitfalls when handling their personal injury claim:
You may deal with an uninsured driver. The other driver may be uninsured or not have sufficient insurance coverage to cover all your losses and expenses.

Consider all costs. It is vital to consider all of the costs, short- and long-term, and expenses related to your medical treatment, loss of income, and other damages.

Make sure your medical bills are final. You may need to wait until you reach your maximum medical improvement (MMI) before settling your claim to understand how much your case is worth.

Expect a lowball settlement offer. In most cases, an insurance company's first settlement offer is a lowball offer. If the insurer offers you less than you deserve, do not fall for their tactics. Negotiate a higher settlement amount.

Statute of limitations. You only have a limited time to bring a personal injury claim after an accident, which is why you need to act quickly after your car accident.
Getting Help From an Experienced New York Car Accident Attorney
At Nichols Law Offices, PLLC, Mr. Nichols has helped numerous accident victims and their families in Syracuse, New York, seek the compensation to which they are entitled. If you feel that you do not know what to do after your accident, do not hesitate to contact the firm.
Mr. Nichols takes pride in delivering personalized services and zealous advocacy to clients. Get your case reviewed by reaching out today.