Who Pays for the Damage to My Car After an Accident?
June 22, 2022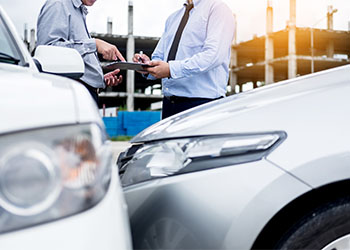 All drivers are required to carry insurance in the event that an accident occurs, but not all drivers know exactly what the payout process will look like when that actually happens. Furthermore, if the accident isn't your fault, how do you make sure the at-fault driver covers all your damages? All too often, drivers in New York are left with outstanding repair bills even after they receive their compensation.
Contact the Nichols Law Offices, PLLC in Syracuse, New York for assistance reaching a sufficient car insurance settlement or filing a personal injury claim. As a car accident attorney, Mr. Nichols is able to help clients throughout the region including Rome, Utica, Fort Drum, Watertown, and Jefferson County. Set up a one-on-one consultation to get started.
Liability in New York
New York is a no-fault insurance state. This means you will usually file a claim with your own insurance provider after an accident, regardless of who was found to be liable. This process allows victims of car crashes to receive compensation quickly and without a lot of back and forth negotiation with an insurance adjuster. However, PIP (Personal Injury Protection) does not cover property damages that your car (or your belongings in your car) sustain as the result of the accident. To obtain these damages, your own policy may provide some assistance, but you may have to file a claim with the at-fault driver's insurance.
New York Insurance Requirements
New York drivers are required to carry property damage coverage for $10,000 per accident. They also must carry Personal Injury Protection (PIP) insurance which typically covers up to $50,000 of medical bills, lost wages, and related costs such as transportation. However, this still may not cover all your expenses. Basic coverage provides up to 80% of lost earnings but caps payouts at $2,000 per month and only pays $25 per day for other "reasonable and necessary expenses."
There are limits on these benefits, though, and certain circumstances may deem you ineligible for a PIP payout. For example, if you were found to be driving while intoxicated, to have intentionally caused the accident, to have committed a felony at the same time as the incident, or driving a stolen vehicle, you may be ineligible for PIP coverage.
Compensation after a Car Wreck
For damages to your vehicle, you can file a claim against the other driver even if you were found to have contributed to the accident. New York follows a pure comparative negligence system which states that liability can be shared between the two parties, regardless of their share of fault. For example, even if you were found to be 80% at fault for the accident occurring, you can still try to recover damages from the other driver for the remaining 20%. In this scenario, if the total damages totaled $100,000, you would be responsible for $80,000, but the other driver could be obliged to pay the remaining $20,000.
If you are unable to get adequate compensation through an insurance claim, you also have the option to file a lawsuit against the at-fault driver. Lawsuits are typically more successful if you suffered physical injuries as well as property damage. Filing a lawsuit must be done within three years from the date of the accident or else a judge will likely dismiss it.
The Importance of Skilled Advocacy
Car accidents can bring with them numerous expenses, many of which are hard to predict and account for. Far too often, insurance adjusters will intentionally try to get you to settle for an amount that's lower than you deserve. Ultimately, you're left with compensation that is insufficient. That's why it's vital to reach out to a personal injury attorney. If you're in the Syracuse, New York area and need to move forward after a recent car accident, reach out to Mr. Nichols at the Nichols Law Offices, PLLC to discuss your options.