Why You Should Seek Medical
Attention After a Car Accident
Feb. 17, 2022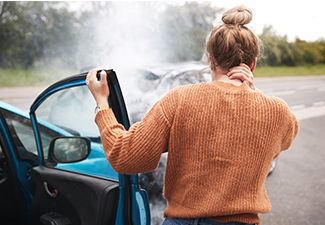 Being involved in a car accident is often an emotional and overwhelming experience. Accident victims often suffer minor to serious bodily injuries, capable of changing the trajectory of their lives forever. No matter how minimal your injuries may be, getting immediate medical attention following the crash is essential for your safety, general wellbeing, and insurance claims purposes. A skilled New York State personal injury attorney can enlighten you about the importance of seeking medical attention after an auto accident and help you file your injury claims.
Nichols Law Offices, PLLC, is committed to offering personalized legal guidance and vigorous representation to car accident victims in their injury claims. Mr. Nichols can seek to protect your best interests and help pursue deserved compensation for your injuries, damages, lost income, and any additional pain and suffering. The firm proudly serves clients across Syracuse, Watertown, Utica, Rome, Fort Drum, and throughout Jefferson County, New York.
Common Injuries After An Accident
Traffic crashes often cause minor to severe injuries to the driver, passengers, or other road users involved in the incident. Some of the most common injuries that are often sustained in auto accidents include:
Traumatic brain injuries

Broken arms, hips, legs, and shoulders

Head injuries

Bruising

Concussions

Herniated discs

Whiplash

Neck or back injuries

Scrapes and cuts

Broken ribs

Knee trauma

Internal bleeding

Post-Traumatic Stress Disorder
When involved in a car accident, your safety and wellbeing should be your priority. Therefore, seeking immediate medical attention is crucial regardless of the nature or severity of your injuries.
Reasons to Seek Immediate Medical Attention
Many auto accident victims skip or delay seeking medical attention because they believe their injuries are minor and the pain will eventually vanish. However, the fact that you feel okay after being involved in an accident does not mean you should not visit a doctor. Here are some reasons to get immediate medical help after a motor vehicle accident:
For Your Safety and Wellbeing
After being involved in a traffic crash, your major concern should be your overall health, safety, and general wellbeing. Even if you believe that you only sustained minor injuries or were not injured at all, it is always advisable that you seek immediate medical attention. Often, injuries and symptoms may not manifest right away and can take several days or weeks. The earlier you get medical attention, the quicker you can recover.
For Proper Documentation of Your Injuries
Furthermore, seeking immediate medical attention is essential for proper documentation of your injuries. Medical records, doctor's appointments, and other documents can record the extent of your injuries. All these will form a vital part of the documentation for your insurance claims.
Compliance with Insurance Requirements
In New York, many insurance providers have policies that state a limited period for policyholders involved in motor vehicle accidents to get medical treatment to be eligible for compensation. Therefore, going to the hospital or medical facility is crucial to comply with insurance requirements.
To Avoid Potential Issues with the Insurance Provider
Insurance companies expect policyholders to report their auto accident injuries as soon as possible. When you file an injury claim, the insurer may use your decision to delay or skip seeking medical help as proof that you were not injured, your injuries were blown out of proportion, or you sustained those injuries from an unrelated incident. Thus, the insurance provider may deny or undervalue your injury claims.
Follow Through with the Treatment Plan
Just like seeking adequate medical treatment after a car crash is important, it is also crucial that you follow through with your treatment plan. Your doctor may prescribe a personalized treatment plan, including prescription medication, routine checkups, physical therapy, or other treatment options. Sticking to the recommended treatment plan will help you recover faster and certainly help with your injury claims.
For instance, if you did not attend your physical therapy sessions or missed doctor's appointments, the insurance company might argue that you did not attend because your injuries are not serious. Due to this, they may refuse to cover the cost of treatment or therapy associated. Also, the insurer may argue that your failure to adhere to your treatment plan or physician's advice deteriorated your health condition. Thus, they may reduce your financial compensation or deny your claims altogether.
Getting the Experienced Legal Guidance You Need
A car accident may result in an injury or trauma and affect you physically, mentally, and financially. Even if you do not feel any pain immediately, getting adequate medical help is important for your safety and wellbeing, for proper documentation, and to mitigate potential issues with the insurance provider when seeking your injury claims. An experienced personal injury attorney can advocate for your best interests and help pursue your fair financial compensation.
For over 25 years, Nichols Law Offices, PLLC, has been handling personal injury cases and protecting the rights of car accident victims and their families.
Never delay seeking medical attention after a motor vehicle accident. Contact Nichols Law Offices, PLLC, to schedule a simple case assessment with a skilled car accident attorney. Mr. Nichols has the experienced legal guidance, support, and passionate representation you need in your car accident claims. The firm proudly serves clients across Syracuse, Watertown, Utica, Rome, Fort Drum, and throughout Jefferson County, New York.